Want an epic Perth Bucks Party or Perth Bucks Night Out?
√ Select a package or party
√ Or build your own package or event
√ We'll take care of everything
√ The best ever Perth Bucks Party is in the works
√ What the Buck are you waiting for?
We know how much hassle goes into planning a Bucks Party event! So we've taken care of all the hard parts so you can have all of the fun. Bucks Party planning does not need to be difficult, when you have us on your side. Browse from our pre-made packages or build your own party from start to finish. We can customise the event to suit you and your group, whatever age, style or budget. Don't be stuck with nothing to do for your mates epic send off! Get in touch with your party planning experts today.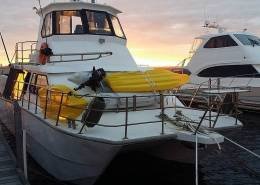 This is the ultimate 3 hours out on the water, with eskys, freezers & fridge on board there is plenty of space for your alcohol, also BBQ facilities for a cook up! Celebrate your bucks in style! From just $96 per person!
We believe in Perth its all about getting out & about for your Bucks Party event! You West Aussies love your great outdoors so we recommend a day AND night event to make the most of your weekend celebrations! Private Boat Charters are the most popular Perth Bucks Party package and we have sourced and tested the best boats Perth has to offer! Choose from a BYO or licensed boat, a 3-4 hour trip or full day affair, a BBQ on board or catering taken care of, topless waitresses, strip shows & more. Coming in a hot second to boat charters is a Private Brewery Tour for you and the lads! Get out and try some of the best beers the WA has to offer with food & scenery to match! Party on board a party bus as you transfer between venues and you could even add on a steamy strip show right there! Other activities available for Perth Bucks include Paintball, Go Karting, Strip Clubs, Pub Crawls, Fishing, Private Functions, Poker Parties & more.