Need the perfect Airlie Beach Hens Party or Airlie Beach Bridal Shower?
√ Check out our packages and parties
√ Or make your own
√ Relax, we'll take care of everything
√ The best Airlie Beach Hens Party is on its way
√ Exciting, fun & hassle free planning for you and the girls
We truly are your Airlie Beach experts when it comes to booking the best Hens Party imaginable! Not only do we have staff based there, but we've tried and trialled the best events, activities, function spaces, transport companies & places to stay. We take care of your event, from start to finish, taking the hassle out of your planning, meaning you just arrive and have all of the fun! Whether you want a whole weekend affair, a night of wild partying, a classic day time Bridal Shower or a full day of action packed events; we've got you covered.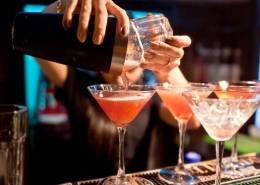 For the best party possible to come to the comfort of your home or hotel! This 2 hour Cocktail Making Party includes a fun & experienced mixologist instructor, learn to make & drink 3 cocktails, all alcohol & ingredients. From just $73 per person.
Airlie Beach is all about getting out on the water and the ridiculously incredible views! So we believe every event should include this. We have the largest range of  Hens Party Boat Charter packages, including private or public, sailing or catamaran, BYO or licensed. If a boat is not your thing why not Stand Up Paddle Boarding, Jetboating, JetSkiing or Snorkeling. Take an incredible scenic flight over the Whitsundays, a once in a lifetime experience! Or even throw yourself out of a plane. Enjoy a range of mobile events including; Cocktail Class, Topless Chef Catering, Private Bartenders, Sex Toy Party, Flower Crown Workshop & more. Add on some cheeky male entertainment with a Topless Waiter or Strip Show. Head out for a night to your own Private Function or a simple VIP club package. Or enjoy an incredible lunch with views over the bay that you will never forget! Whatever your group size, style, budget; we've got something for you!