Planning a Queenstown Hens Party, Queenstown Hens Night or Queenstown Girls Getaway?
√ Select a package or party
√ Or build your own
√ Relax, we'll take care of the hard parts
√ The ultimate Queenstown Hens Package is on its way
√ Fun, hassle free planning for the perfect Hens Party
If you're heading to Queenstown for a Hens Party or Bridal Shower, well you are in luck! This incredible, beautiful, magical town has endless activities, functions, events, food & wine on offer. We have put together the best possible Hens Party packages including deals exclusive to us, we take care of all the hard planning so you can have all of the fun! Browse our packages or build your own event completely from scratch. Then sit back, relax, arrive & enjoy!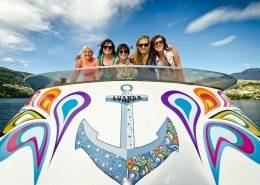 Feel like absolute stars on the private 3 Hour Hens Party Boat Charter around Lake Wakatipu! With views to die for, amazing sound system, fully licensed bar with drinks specials plus a hot topless waiter. From just $67AUD per person.
Queenstown, oh Queenstown. What a magical place and lucky you to be able to celebrate a Hens or Bridal Shower event here! The options available are endless, but we have tested & trialled and put together the absolute best deals and best options possible. Head out on your very own Private Boat Cruise around Lake Wakatipu from Queenstown CBD where you can enjoy food, drinks, sexy topless waiters & those incredible mountain/lake views. Go on your very own Private Winery Tour tasting the absolute best food & wine the region has to offer – check out our totally exclusive, all-inclusive Winery Tour package or build your own! Add in some adrenaline with a Bungy Jump, Skydive, Jetboating, Paintball, Luging, Paragliding & more – this is the adrenaline capital of the world. Party any night of the week in Queenstown's bustling nightlife – Have your very own private function, reserved space with food & drinks in a bar, enjoy frozen cocktails in an ice bar or even head out on a fully organised pub crawl. Why not an activity such as a Cocktail Class, Nude Life Drawing or Dance Class Party? We've truly got it all!