Bucks Party Ideas in Bali
Last Updated on December 2, 2023
We have combined a team of Aussie and Indonesians on the ground in Bali, who have tested, trialed, partied & celebrated across Bali to bring to you the best Bucks Ideas and once in a lifetime celebrations!
And the best part? We can take ALL of the hassle out of your plans by taking care of everything for you! Check out our Bucks Packages in Bali.
Build Your Own Bali Bucks Party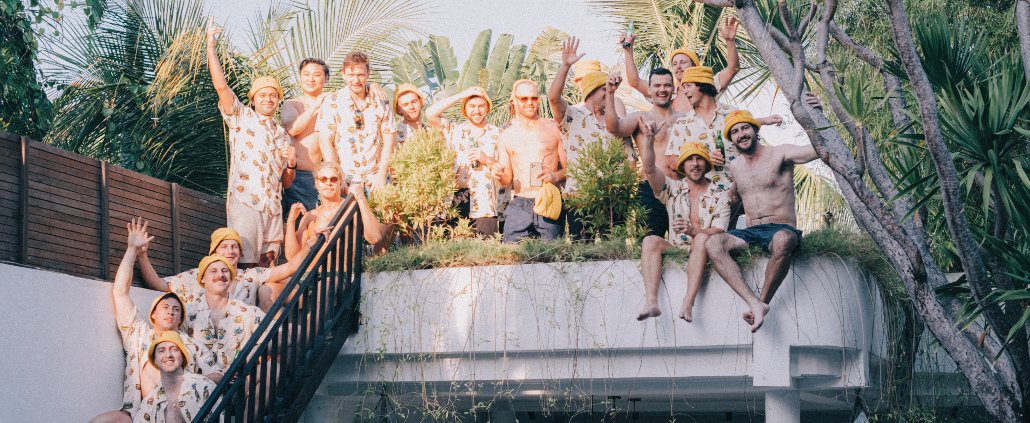 Party like pimps! Get your own Private Villa for you and the lads and have a pool party in style.
Arrange bartenders to mix & serve your drinks, a chef to cook you a meal, Sexy Bikini Waitresses, or hostesses, sexy dancers, DJs, performers, sexy maids to cook breakfast. Do you want it? We've got it all in one Villa Party package!
And don't forget to ask about our Bucks Prank Surprise to stitch up the groom to be!
2. Private Boat Party Charter
We've sourced the best to offer you the ultimate in a full day out to Nusa Lembongan & surrounds, a lagoon party during Bali sunset or the best Luxury Yacht Party imaginable!
We have pre-made packages but can also customise the perfect package for you. Take just the Private Boat or add on DJs, Waitresses, Catering & more.
Check out our boat packages:

Don't know what to choose? Not sure how to work the itinerary? Want to combine your Bucks event in Bali with fun, adventure, drinks, and food?
Well, look no further! Our Ultimate Bucks Day Out Package combines an Axe Throwing tournament (yes, all while drinking beers!), a pool club with a VIP space included and then onto Motel Mexicola to feast, drink, and dance (on tables) your Bali Bucks Night away!
Can I get an amen?!
4. Nude Sushi, Sake Bombs & Spicy Noodle Eating Comp
For the newest, most unique Nude Sushi, Sake Bombs & Spicy Noodle Eating Package that will impress the best!
You will have a classy, funky Canggu restaurant/bar booked completely privately for your group for 3 hours, sexy bikini/lingerie waitresses, eat sushi from their bodies, drink sake bombs, compete with your mates in a Spicy Noodle Eating comp.
This package combines the VIP feeling of a private space, tons of fun, friendly Indonesian service, scantily clad babes and everything you'd need to kick off a Bali Bucks Party.

What better way to start a Bali Bucks day than with waking up, getting wet & shaking the hangovers with some Wake Park and Aqualand fun, beers in the infinity pool and some man style food to line the stomachs.
Check out our Wake & Shake Package here.

Does your Buck deserve to be pranked? Of course, he does!
We have a Prank exclusive to us that is so good we want to keep it a secret. Only the organiser of the event shall know!
And this for us is our all-time favorite from our Bali Bucks Party Ideas.
Contact us now for more details on our Bucks Party prank!
A classic game of Beer Pong is always a great way to get the party started! Head to Canggu's best sports bar where you have a reserved space in the backyard, beer pong set up for you, use of the pool table, a pint of Bali brewed beer on arrival plus man style finger food to share.
Check out our Beer Pong Package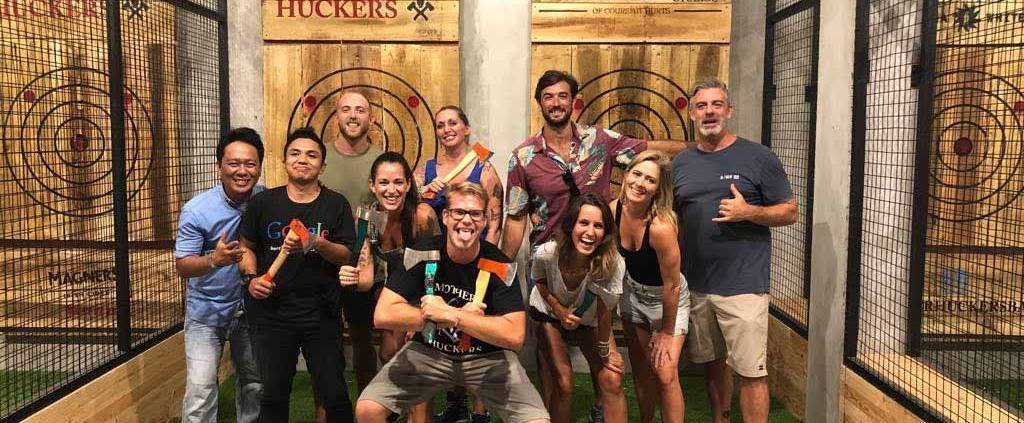 The activities in Bali for Bucks Parties are endless! Head out for a
Go Karting
Cliff Jumping
Jet Skiing
White Water Rafting & more
We urge you to try a day activity before your partying begins. See another side of Bali and laugh with the lads!
Check out some of our Bali Bucks Adventure Packages.

Bali's brand new party on wheels is here! Tour around Bali in the most pimped out party bus with the loudest tunes, the best host, karaoke, stripper pole, sofa's, toilet, party lighting, TV screens, bar set up, tinted windows, DJ or live music on board, drinks and snacks included and purchase more on board.
Check out our Party Bus Package

There's no place like Bali for jumping on a quad bike and riding through the different terrain!
Take a dirt bike tour around a volcano, quad bike through the rice fields & jungle around Ubud, or bike down one of Bali's best beaches. Choose your bike, get geared up and go!
Bali is the land of cheap & cheerful! Get pimped with a cut & shave while enjoying a cold Bintang at Bali's best barbers before your night out on the town! For bachelor parties in Bali that want to start the day as they deserve.
12. Fun Dining Experience

Bali is all about food & fun! So combine these with some of the BEST dining experiences you will ever have! Indulge in a 5-star restaurant Salazon in the heart of Seminyak.
Feast and party together at the famous Motel Mexicola. Treat yourself to a Beach Club dinner with a view at the brand new Tropicola!
Combine luxury dining and a party at the stunning & fun Da Maria. The choices are endless!
Plan your Bucks Party in Bali with a team of Experts by your side!
Just fill up the form below
When I was planning my mates bucks party in Bali I came across these guys . They have been a pleasure to work with over 70 message in total were... see more sent from me as people kept being added to our group and kept changing our minds. They made everything so easy and communicated everything so well. On the day everything ran so smoothly and the villa party was a great success. Food , drinks and entertainment was great Would highly recommend, thanks guys

Alan Carroll


Went on an unforgettable boat party in Bali with Real Escapes. The food and atmosphere were amazing and the drinks were flowing. One of the best spent afternoons. Would highly... see more recommend them for your event needs!

Holly Manganoni


I started looking for an events coordinator last August 2022. I was messaging with a handful of them, however the one that stood out was Real Escapes. I did my... see more research and read a lot of good reviews from their social media. I was able to communicate with Nadine, she was right from the start got my concept for my 40th Birthday Celebration and Surprise Vow Renewal. She was able to gather a very good suppliers from the Food Catering, Decors, Host, DJ, Vow Renewal Celebrant, Photographer, Make-up and Mobile bar. I feel so lucky as I was able to do a google search about Real Escapes, as I was living abroad and was quite hesitant that I will be able to pull off the concept that I was visualising in my head for the party. But Alas! Really was blessed to have them, specially Nadine who was very helpful all throughout. We exchanged messages for the next couple of months and she accommodated all my request including a Piñata, and a traditional Balinese sit-down dinner and last minute Make-up and Photographer. The decor was phenomenal too from the Balloons to the Nacho bar and table set-up. The party was a blast, I got all of my guest cry and laugh at the same time. My husband also got emotional because of the surprise Vow Renewal (we were able to keep to all of the guests, including my husband). There are not enough words to say, THANK YOU. They have been amazing with the details and timely exchange of messages from day one. Highly recommended, and hey, they do not overprice at all! We really got a lot more from the experience from what we paid for. From the bottom of my heart, Thank you Nadine and Team! You all have been amazing, we will never forget this (my guests has still been speaking of the event til now). Well done and more power to Real Escapes!

Marie Schierscher


I booked the Live Art Class through Real Escapes for my sisters Hens party in Byron Bay on the 6th March 2021. The host was absolutely amazing and so natural... see more at her job (and a brilliant artist at that!) She made us feel so comfortable and come out of our shell throughout. We all thoroughly enjoyed the experience and ofcourse having a dreamy man in front of us was a massive bonus.. love love loved! Definitely recommend doing this!

Danielle Bridge


Organised a hens party through real escapes in Perth! They were fabulous right from the start! Their communication and professionalism was outstanding. They sorted everything for the day and it... see more ran smoothly which the bride LOVED and every guest thoroughly enjoyed!! Thank you so much to Nadine and her team !! Can't recommend the team enough!!

Jaymie Kaeding


Amazing service and excellent attention to detail. We had a ball!

Ben Kinnane

At Real Escapes, we're all about planning the most unforgettable Hens and Bucks parties. Our founder, Nadine, had a vision to bring the best party experiences to life across Australia, Queenstown, and Bali, and that's exactly what we've been doing.
We're true party people through and through, because who would trust a dentist with bad teeth or a hairdresser with bad hair? We're passionate about what we do, and that passion shines through in every event we plan.
We're not just party enthusiasts; we're organized control freaks. When it comes to group trips and events, we understand that every detail matters.
You can leave all the planning intricacies to us, because we're the ones who thrive on making sure everything runs seamlessly. We speak a few different languages here – Party, English, Aussie, and Kiwi.
Our team's mission is simple: to book FUN for you, and we ensure that the fun starts right from the moment you contact us.
With 7 years of experience under our belt, we've meticulously trialed the best venues, activities, boats, and functions to curate only the very BEST that the market has to offer.
Thanks to our extensive network and knack for bulk bookings, we consistently secure the best deals, offers, and specials. We take care of all the challenging aspects so you can focus on having an absolute blast.
Nadine, the driving force behind Real Escapes, has been a prominent figure in the industry for over 7 years.
Our track record speaks for itself with a total of 250 reviews, each averaging a stellar 5-star rating across Google and Facebook. You can trust us to deliver top-notch experiences because we're not just party planners; we're your partners in creating unforgettable memories.